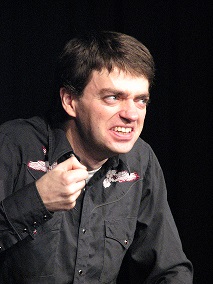 Jacob Banigan has been improvising since joining Rapid Fire Theatre of Edmonton, Canada in 1990. Serving as Artistic Director from 1995 to 2004, he continued to produce THEATRESPORTS, introduced RFT to longform improv in the show CHiMPROV, and helped the company create a reputation in the global improv community. In Edmonton he worked as an actor, musician, writer and director in various combinations in theatre, television, film and radio. Having since moved to Austria, Jacob now works with Theater Im Bahnhof of Graz, and the English Lovers of Vienna.
He regularly travels the globe performing and teaching improv wherever the wind blows.
Contact:
jacob@english-lovers.com
>> Theater im Bahnhof
Jacob will be performing in Graz, soon!
---
>> Rocket Sugar Factory
Jim and Jacob are always off somehere-
Find out more: Rocket Sugar Factory on FaceBook